Dear Friends of World Nation,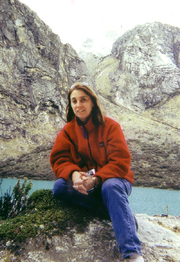 Cynthia at Llanganuco Lake, Peru
Welcome to our World Nation website!  We are excited to celebrate the release of our second nostalgia CD, "Walking in a Memory." The album includes classics such as "You Must Have Been a Beautiful Baby," "Silhouettes," "Ma He's Making Eyes at Me," "Boogie Woogie Bugle Boy," "Come Go With Me," "Sukiyaki," "So Much in Love," "Life Could Be a Dream," "When the Saints Go Marching In," our rendition of Maroon 5's "Love Somebody," and two originals.
This is a follow up to our first nostalgia CD, "Cruisin' in My Wagon: A Journey through Doo Wop, Pop & Swing," released in 2013. That 18-song album spans 50 years of the last century from "Oh You Beautiful Doll," "I Don't Know Why," and "Mister Sandman" to Doo Wop songs like "Blue Moon," "Papa Oom Mow Mow," "Come Softly to Me" and classics like "Summer Place," "Venus in Blue Jeans," "Mountain of Love," and "Under the Boardwalk."  The CD includes three original songs- "In Your Arms" and "Sweetie Pie," and the theme song "Cruisin' in My Wagon."
Katia at Machu Picchu in Peru
Thank you for supporting our work.  These albums feature talented Tampa Bay World Nation kids (ages 5-19) along with some of the great legends of Doo Wop – Steve Horne (Doo Wop Mob), Bobby Hendricks (Drifters), and Richie Merritt (Marcels). Our CDs can be purchased here on our website as well as through Amazon, CD Baby, and iTunes.
We look forward to bringing you news, video links, performance photos, and more in the coming months. Thank you for joining us on our musical journey.
May the sun always shine on the path of your dreams!
Cynthia Haring, Producer/Director
World Nation
Katia Valdeos, Producer/Director
World Nation